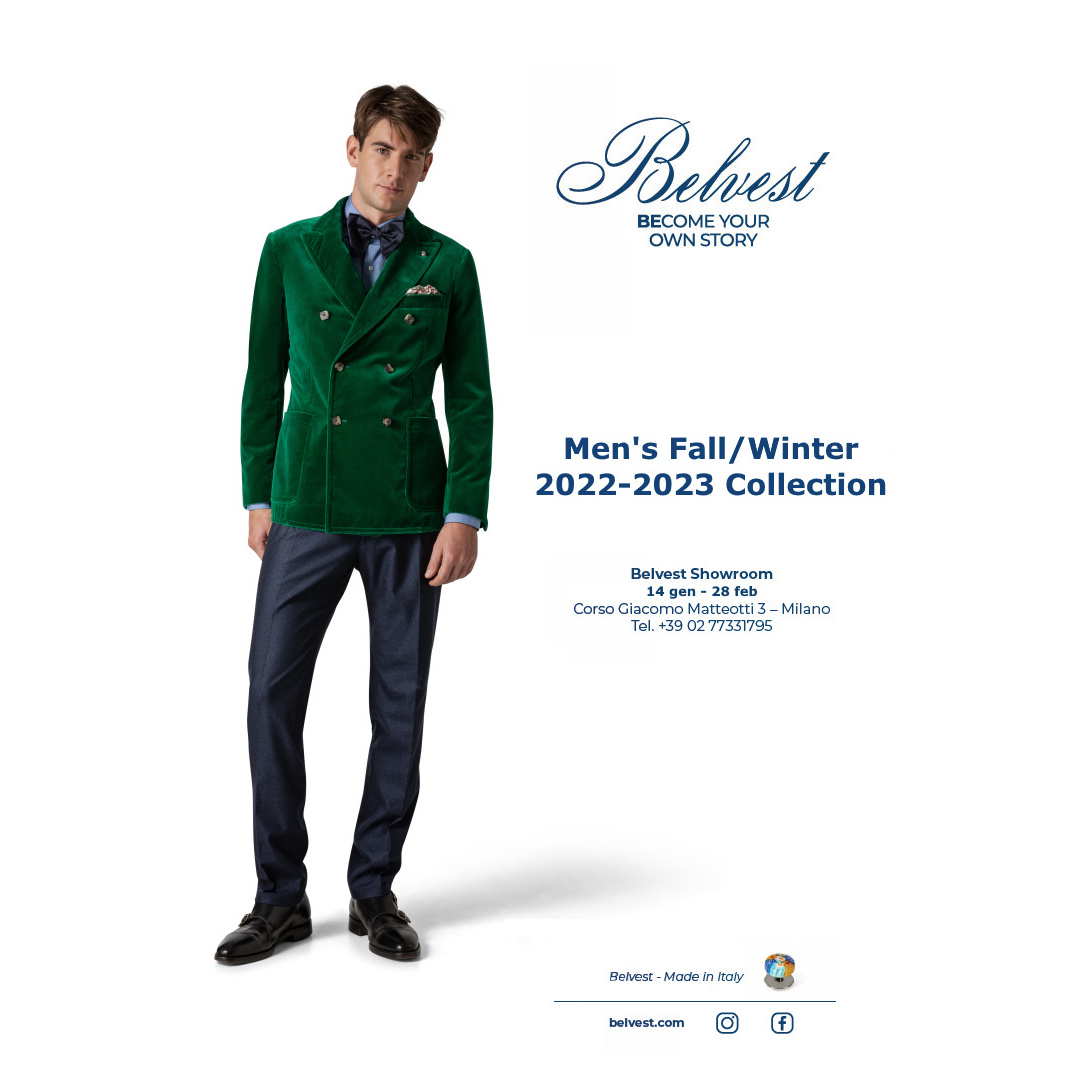 "Take life lightly, for lightness is not superficiality, but a gliding over things from above, without letting things weigh on your heart"
(Italo Calvino, Six Memos for the Next Millennium) 
The eclectic spirit of Baroque and the fluid versatility of the Millennials: these are the two complementary magnetic poles of Belvest's autumn-winter 2022-23 collection, designed for the contemporary young professionals who are anthropologically the children of diversity and of dress mixology. 

Lightness and sustainability are the key concepts, the bases of the collection that entitles emotional authentic luxury through a vibrant color palette: azurite, celestial, ocre, obsidian, Sulphite.

The Rain Jacket is constructed of velvet on one side, and with an ultra-tech engineered breathable fabric on the other; the Heritagestyle has been revisited with double-row stitching and a hand-sewn "travette"; Peacot features a shawl collar in glamour-bohemian wool; the down jacket in graphic ribbing with sleeves in felt wool, the Bomber is architected from extra-fine 14.50 micron wool.

Climate change and geopolitics act as accelerators of change, and these changes require state-of-the-art fabrics. A 3-D pied-depoule fabric for the new ton-sur-ton Blu Blazer: wool-cotton-silk in delavé azur, a thrilling pure cashmere with malfilé micro-texture, breathable stretch wool with lycra, and different styles of blazermade of tactile jersey with a unique sense of feel in a micro-stitch texture.

Amid trousers emerges the Sartorial Jogger style with a pullthrough cord, and the new High Class denim trousers in mixed cotton-silk twill. T-shirts are made of ultra-fine cotton and cashmere for a "all year round" attire. Totally new are the square bi-level horn buttons with a vintage feel, and the ultra-light mini-ribbed lining. What is never missing is the iconic Murrina, the true stylish touch by Belvest.

Sustainability is the new status symbol for Belvest, the pinnacle of a respectful approach that draws inspiration from our Values and Made in Italy manufacturing. 
Natural fleece fabrics, eco-friendly natural fibers such as the origins/dyeing from the Campeach Tree of South America, twill lining made of natural cupro, merino-cashmere wool with an embroidered motif, the Eco Tagua button made from a palm nut that falls to the ground spontaneously wherefrom it is collected and processed into an unbelievable form of "natural ivory", while allowing forest the time to regenerate.

The rediscovery of an ancient attention to the universe that surrounds us that becomes love and the will to protect our environment.
This blazer spotlights Belvest rich history in forefront model development combining modern tailoring techniques to tec-wear.
This reversible down blazer sublime drape is achieved by double facing the blue marine soft felted wool to the light weight and dense solid rain proof weave, then finished to a reversible construction with a comfy neckline and dropped shoulders.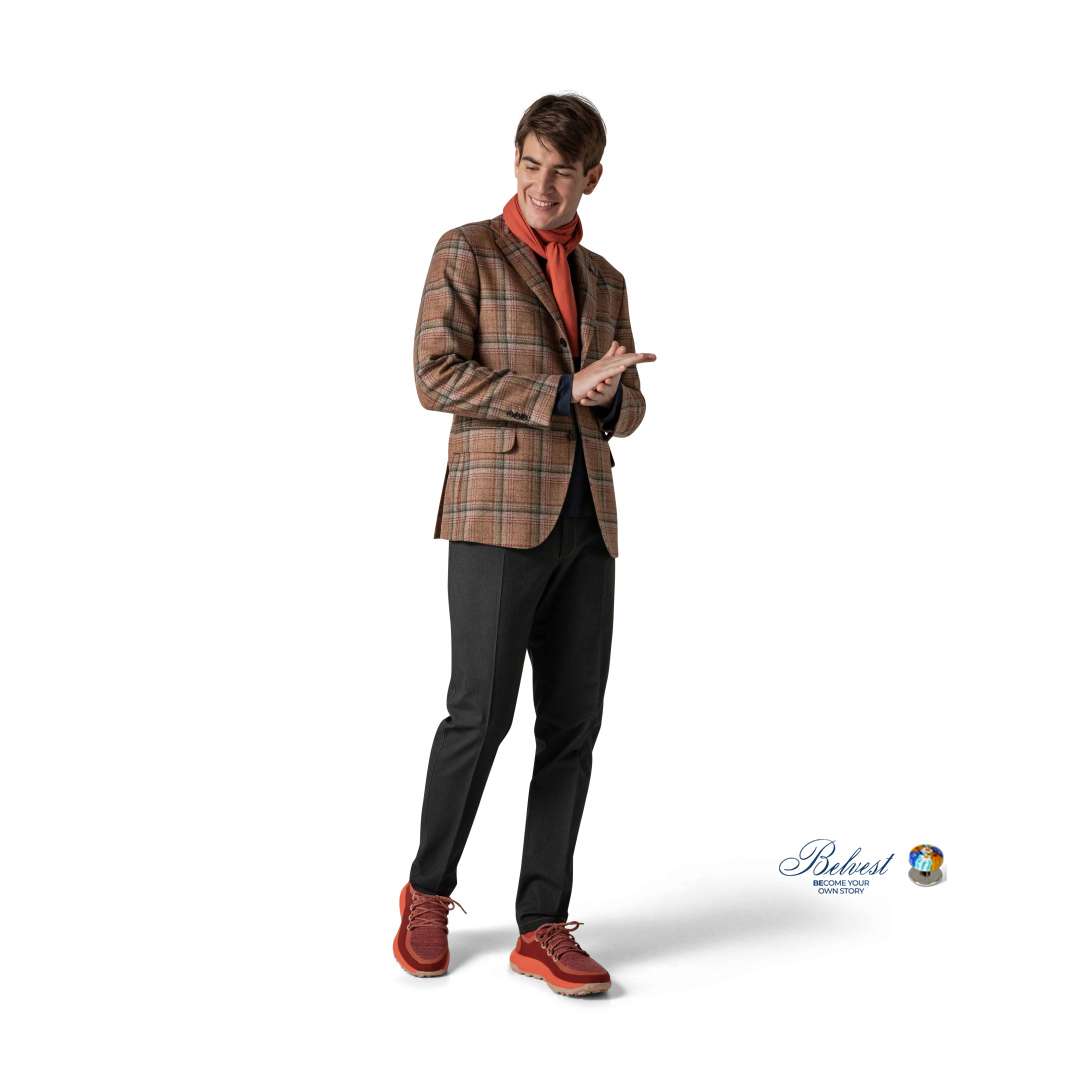 This new capsule jacket is Belvest iconic soft, deconstructed with no canvas, no shoulder padding, the no lining except in the shoulder and through the sleeve and no roping.
The fabric architected in a over check in a multi color plaid.
The  lambswool is double twisted giving a moulinè effect.
This novel unconstructed jacket maintains a soft, loose shape and is most favorite for winter-wear it layers well with the cotton-cashmere t-shirt. The jacket can be a great travel piece and is essential for every man's wardrobe.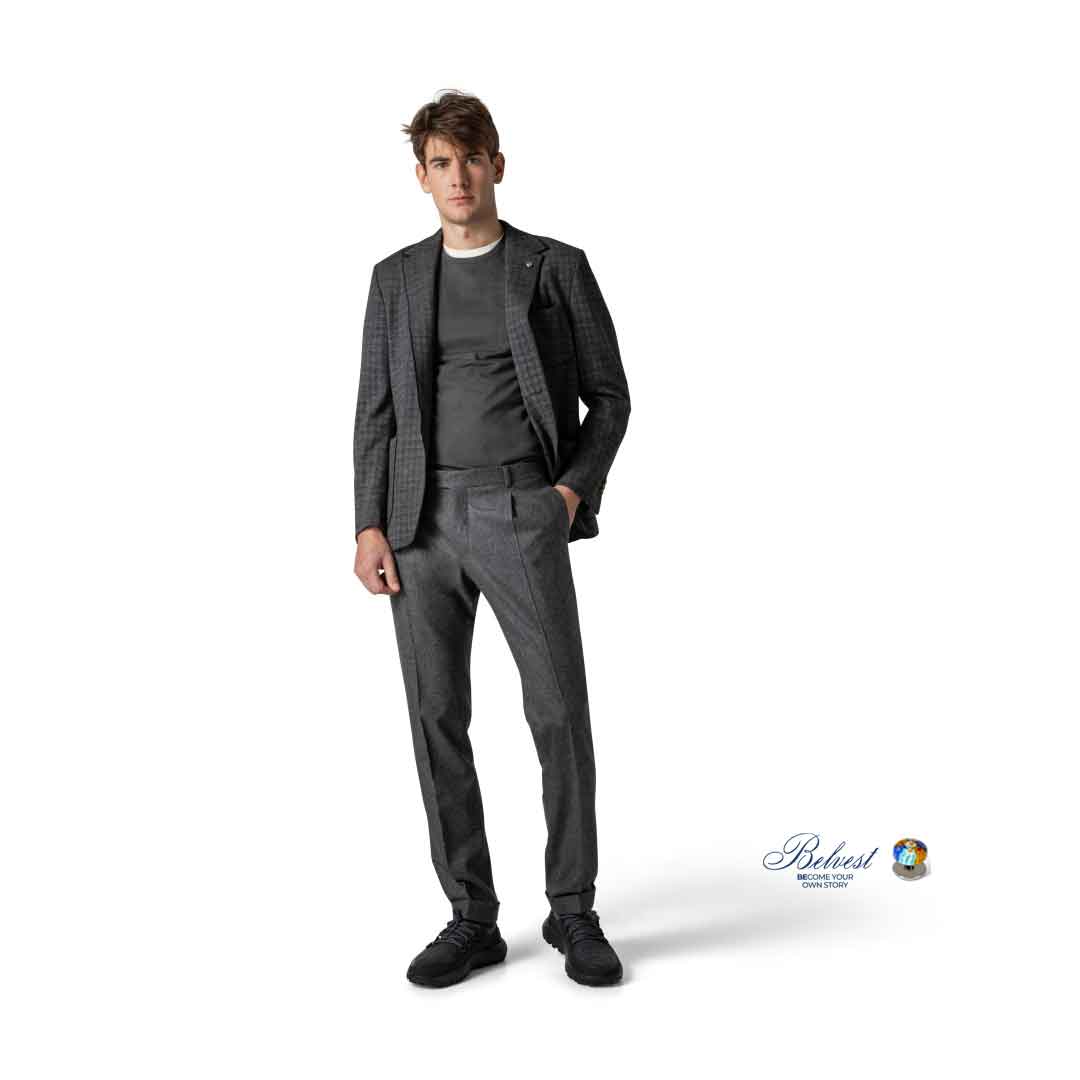 This jersey jacket is realized in a creative innovative fabric that discloses the structure between a hopsack and natté in a rich wool blend. It is hand crafted in an inventive finishing stitch named Bernino. The chiaro-scuro "ash gray" creates the sophisticated color contrast and three-dimensionality effect. Double-needle bed fabric creates a veiled relief effect of the pied-de-poulè.
With its advanced yarn and finishing technology this jacket is a perfect combination between form and function designed to look smart and perform well, making it ideal for those who are always on the move.